Faux effects can simulate natural materials such as stone, marble, leather and suede.
A baby's room.
In a girl's room, walls painted as the color inverse of the comforter.

In the same girl's room, a faux Palladian window above the real window.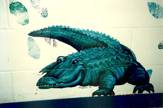 An Alligator on a classroom wall.

This monkey, plus other animals, matches a wallpaper border.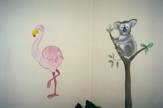 More animals in the wallpaper border.

A teenager's favorite player.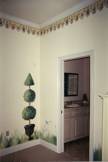 Grass and a topiary grow in a nursery.